Skunk Exterminator in Montreal
The skunk is a nocturnal animal and common pest in Quebec. Well adapted to living close to humans, it inhabits the prairies and urban areas of the province. When searching for food, it ventures near homes and gardens.
Having skunks near your home presents several problems. In addition to damaging your property, they can also spray you with a foul-smelling liquid from their anal glands. These secretions have a strong odour that can last for several weeks. Skunks can also transmit rabies.
Our skunk exterminators have efficient skunk control methods to keep them away and prevent them from coming back without harming them.
Skunk fact sheet
| | |
| --- | --- |
| Family | Mephitidae |
| Order | Carnivora |
| Reproduction | 4 to 6 pups per litter (up to 16) |
| Habitat | Prairies, cities and suburbs |
Emergency? We are available 24/7
How to tell if you need skunk removal
In the following cases, it is recommended to call a skunk exterminator. A skunk control expert can remove them effectively and quickly.
A foul smell near your home
Skunks often leave behind a foul smell that signals their presence.
Holes and droppings in your garden
Skunks like to dig and leave droppings as they pass through your yard.
Damage to your property
Skunks can damage your property and its surroundings when searching for food.
Our skunk exterminators work safely and responsibly
The professionals at E.Exterminateur are there to protect your health and that of your family and pets. We always intervene with respect for wild animals.
Our team of qualified technicians uses eco-friendly and animal-friendly procedures. Using a strict protocol, we always try to return the pests to their natural habitat after removing them. This is how our teams work to get rid of skunks responsibly.
In addition to our extermination services, we offer the decontamination of areas contaminated by skunks. We also advise you on possible pest prevention measures to avoid the situation happening again.
Trust our skunk exterminators to protect you
Found in the wild, these small, harmless-looking mammals have an impact on the health of you and your loved ones. This is why it is important to call a pest control service to capture and remove skunks when the situation becomes problematic.
Transmissible diseases
Like other pests in Quebec, such as the raccoon, skunks carry diseases transmissible to humans, including rabies. Their secretions are also very dangerous for you, your children and your pets.
Dangerous secretions
Secretions from the skunk's anal glands can be a serious threat. This foul-smelling liquid can be sprayed up to several meters and cause severe eye burns and nausea.
A strong odour that is hard to get rid of
When skunks spray you, the trouble begins. The extremely foul smell of their secretion is very difficult to get rid of. It can take weeks or even months if you don't know how to eliminate the skunk smell.
Avoid this by contacting a skunk exterminator as soon as these pests come near your home.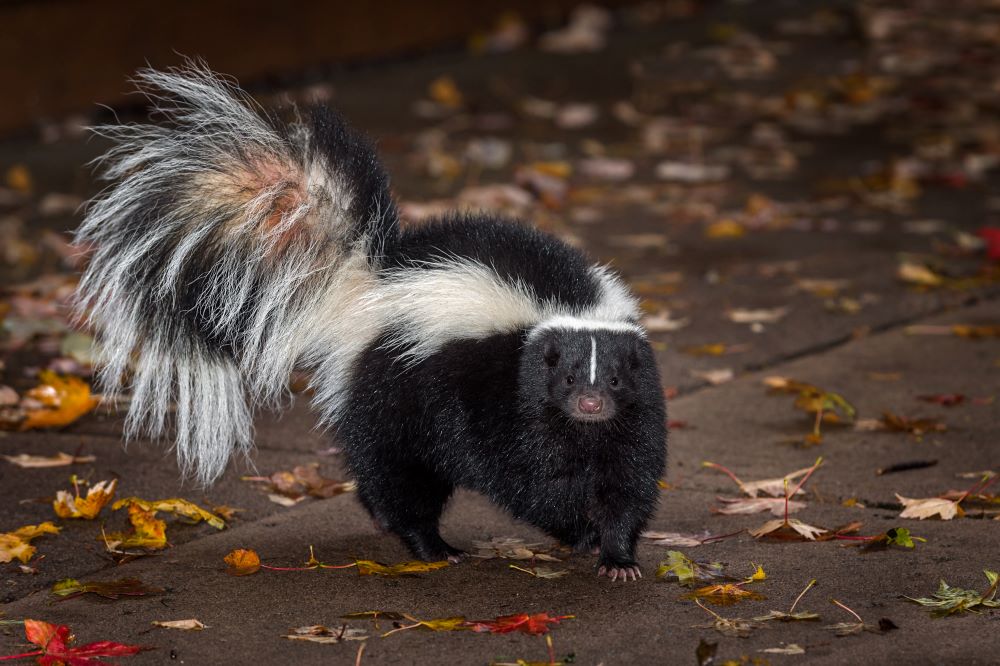 Contact our skunk exterminators in Montreal
If you are struggling with skunks in or around your property, contact our skunk exterminators right away. E.Exterminateur operates everywhere in Montreal and Quebec. Our safe and environmentally responsible extermination methods are the best way to safely get rid of these nocturnal pests.
Ask for your free estimate now! You can also contact us for the extermination of any other pest or if you need decontamination and prevention services.
Receive an evaluation
100% free of charge
emergency?
We are available
24 hours a day, 7 days a week